Daycare Worker Arrested for Killing Baby by Giving Her a Sedative to Sleep
"I don't know how I'll wake up every morning knowing that my baby girl isn't here with me."
by Amanda Tarlton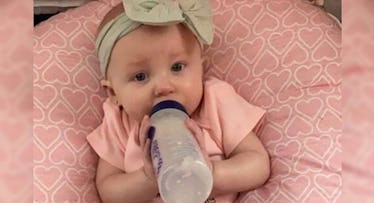 GoFundMe
A Vermont daycare provider has been arrested for the death of a six-month-old baby after giving the infant an overdose of diphenhydramine, a common sedative in over-the-counter antihistamines like Benadryl.
"The state is alleging that the defendant sedated an otherwise beautiful, happy, healthy six-month-old to the point where that baby could not lift her head and died," Rutland County State's Attorney Rosemary Kennedy told The Associated Press. "From the state's perspective that is about as serious a charge that we see in Vermont."
Following the January 24 death of Harper Rose Briar, Stacey Vaillancourt, 53, is being charged with manslaughter and child cruelty. The infant, who was found unresponsive at Vaillancourt's in-home childcare facility in Rutland, Vt., was rushed to the hospital before passing away after just three days under Vaillancourt's supervision.
According to police reports, the autopsy revealed that Harper had high levels of diphenhydramine in her body. The sedating ingredient is only to be used with a doctor's order, which authorities say Vaillancourt did not have. As a result, Harper's death has been ruled a homicide.
In a Facebook post, mom Marissa Briar wrote, "You drop your babies off thinking they'll be safe for the day, you put your trust into someone to take care of and love your baby like your own. I can't tell you how hard this is… how I will wake up every morning knowing that my baby girl isn't here with me. My heart has been shattered. A piece of me is completely gone."
To raise money for Marissa and husband Blake's legal expenses, a friend of the family has set up a GoFundMe page. "Harper Rose was perfect," the woman describes. "She was a vibrant beautiful baby girl. Her smile lit up the room."
Vaillancourt pleaded not guilty to the charges on Monday and was released on $25,000 bail. If convicted, she could face up to 15 years in prison for manslaughter and up to 10 years for cruelty to a child.
This article was originally published on