Dax Shepard Defends Kristen Bell From Parent Shamers
When Bell admitted to smoking weed around her sober husband, social media unleashed its fury.
by Alicia Kort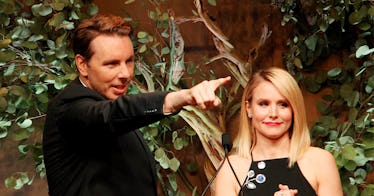 GETTY
Kristen Bell found herself under fire for comments she made during an interview on the WTF with Marc Maron podcast. The Good Place actress talked about everything from raising her two young daughters, Lincoln and Delta, to how she sometimes unwinds after a long day. And during the course of the discussion, Bell revealed that she often smokes weed around her husband, fellow actor Dax Shepard.
"Once a week, if I am exhausted and we are about to sit down and watch 60 Minutes, why not?" Bell said to Maron.
Although many wouldn't find this revelation in itself controversial, Bell's husband has been sober for 14 years after struggling with substance abuse. Some took Twitter to criticize Bell for being so careless to use drugs around someone who is sober.
After her comments started a debate on Twitter, The Talk hopped on the bandwagon and posted a question to their followers: "Kristen Bell vapes weed around Dax Shepard, even though he's sober. If you were sober, would you expect your spouse to be? #EverybodyTalks."
Dax Shepard quickly stepped up to his wife's defense on the social media network, tweeting: "That would be like a diabetic expecting their partner to never eat dessert. Get real!" The actor further clarified his position on whether he would let his wife do hard drugs around him.
Shepard and Bell have always been open about their lives together. Bell has been in the news a lot this week and not only for this controversy. Her show Veronica Mars was given a three-season deal on Hulu and her second season of her Ellen-affiliated webseries "Momsplaining with Kristen Bell" just kicked off today. In "Momsplaining," she talks about her experiences with motherhood and gives advice to other moms. Perhaps she'll address the topic of marijuana in season three.
This article was originally published on