Dax Shepard Had the Sweetest Birthday Gift Request for Kristen Bell
by Amanda Tarlton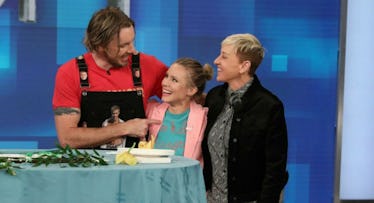 The Ellen DeGeneres Show
Dax Shepard and wife Kristen Bell shared a sweet moment when she asked what he wanted for his birthday. On Thursday's airing of The Ellen DeGeneres Show, Bell was brought to tears when Shepard revealed his unexpected wish.
"What would you recommend getting someone very special, like a spouse, for their birthday? Or how would you spoil them on their birthday?" Bell asked her husband, who turned 44 on January 2, during a segment that DeGeneres called "Ask Dr. Dax."
After joking, "In the bedroom?" (which his wife reassured him that she had "covered"), he gave a more serious, heartfelt response: "I would say please, please, please give that person love and support for 11 years, give them two beautiful baby girls. And, you're good."
Not only did his answer have the Good Place actress tearing up, but Shepard also got emotional during the sweet moment. "You're crying, too!" Bell teased before he quipped back, "You sit down, young lady. We've heard enough of your questions."
The playful couple, who share daughters Lincoln, 5, and Delta, 4, have been married since October 2013. And both Shepard and Bell have been refreshingly open about the ups and downs of married life, even admitting that they attend counseling to strengthen their relationship.
But according to Bell, the hard work has been worth it. "I'm decidedly confident I chose the right person," she told People in a 2018 interview. "At first I was attracted to the way he made me feel, and now I'm attracted to the things I learn from him."
This article was originally published on