The Guy Who Narrated Planet Earth Is Teaching Kids Geography In Quarantine
The 'Planet Earth' narrator is one of many celebrities coming to the rescue of homeschooling parents.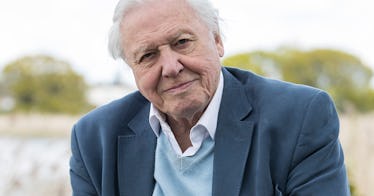 Getty
Naturalist narrator extraordinaire David Attenborough is lending his knowledge and his baritone to a new BBC effort to entertain and educate kids stuck at home during the COVID-19 pandemic.
Attenborough is narrating videos about mapping the world, animal behavior, and the oceans for Bitesize Daily, a BBC virtual learning program that consists of daily lessons across subject areas and specific to particular age groups. It was put together in the past few weeks as a resource for parents who've been pressed into service as homeschool teachers while schools remain closed.
Widely known as the narrator of Planet Earth and similar BBC nature documentaries, the 93-year-old Attenborough is considered a national treasure in the UK. He's one of many celebrities who can be found on the platform.
Kids can learn how to count to ten in Spanish from Manchester City soccer star Sergio Aguero, basic musical concepts from Liam Payne of One Direction, and the principles of force and gravity from Brian Cox, a particle physicist and narrator of what amounts to the physical sciences counterpart to Attenborough's life's work.
Bitesize Daily will be the biggest educational offering in the history of the BBC, a robust collection of videos, lesson plans, and hands-on exercises. New lessons will drop every weekday, and by the time everything is said and done there will be 14 weeks worth of lessons on the site, enough to get parents through the end of the school year.
Unfortunately, IP addresses from outside the UK appear to be blocked from accessing the new videos. You could always use a VPN as a workaround, but thankfully there's no shortage of Attenborough-narrated nature docs to transfix your kids while you work from home.
This article was originally published on