British Police Department Warns Parents About Dangerous Smartphone Apps
Ranging from Instagram to a "Tinder for 16-year-olds."
by Raz Robinson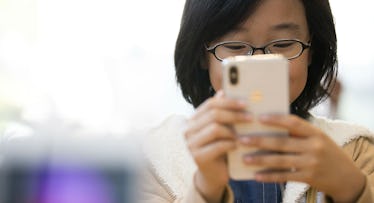 Getty
In an effort to encourage parental oversight of kids' phone usage, a British Police Department recently shared a list of ten apps popular with kids that parents should be concerned about. While the list was posted by British law enforcement, there is a concern across the pond as well; in fact, the list originally came from a Facebook post by American blogger April Requard.
The apps listed include some popular ones like Instagram – the most popular photo/video-sharing social network – and Omegle, a free chatting service that encourages people to talk to strangers. While those are too well-known to really be kept a secret from parents, others are stunning in their deception. For instance, Calculator% is a password protected photo and video vault disguised as a calculator app; Yellow is essentially Tinder for 16-year-olds. Meanwhile, an app on the list called Wishbone lets users compare and rate children against each other, in a disturbing take on Mark Zuckerberg's Facemash.
Here's the entire list:
Requard won Apple's Distinguished Educator Award (ADE) in 2013, and she also sits on the ADE board. Beyond that, she's a huge advocate for developing creative and safe ways to use technology in the classroom. In other words, she knows what she's talking about.
"I believe strongly in not blocking everything," Requard said in her original post. "But in my opinion, there are certain apps that are just off-limits."
Some American police departments have issued similar warnings about social media use in the past, along with reminders about the importance of parents staying abreast of what their kids are doing online. However, Requard's list appears to be the first comprehensive collection of its kind.
It makes sense that it would be a British police department to share a list like this, because the UK has been at the forefront of studying how social media usage affects kids. A recent study finding that early social media use has the most devastating impact on girls' well being was conducted entirely in the UK. Not to mention, the English Children's Commissioner suggested banning social media in schools to keep kids off of them as long as possible. In any case, take this as a warning to know exactly what your kids have downloaded on their phones. Because what looks like a calculator app might be something else entirely.