Dad Uses Son to Scrape Snow Off Car in Hilarious Viral Video
In one fell swoop, this dad clears off the car and gives his son a great memory.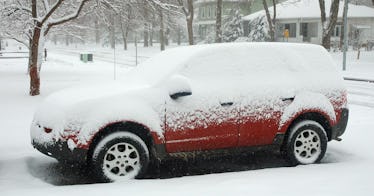 In the midst of last month's polar vortex, one resourceful dad found a new way to clear off the family sedan and entertain his son at the same time.
In a video shared by the YouTube channel ViralHog, an Ohio man repeatedly slides his young son from the roof of the car down each of the windshields, clearing off the snow and eliciting squeals of delight from the youngster, who's clearly having the time of his life, in the process.
The video was shot by the boy's mother, who can be heard laughing throughout. She also shared some more details of the impromptu winter fun in the accompanying caption.
"We got a lot of snow in Monclova, Ohio. My husband and son went outside to play in the snow. I asked my husband if he could clean off our vehicles while he was outside," she wrote.
"Next thing I know, my husband is yelling into the house asking if we have any duct tape. I meet him at the door with the tape only to find that he is planning to wrap it around my son's wrists, ankles, and waist so the snow couldn't get in. I then recorded this video of my husband using our son to push off all the snow. My son had such a blast!"
There's something pure about hearing the excited laughter of a kid who's so clearly overjoyed to be spending time with his inventive dad. The video has garnered over 733,000 views, so don't be surprised if more dads use their kids as snow scrapers during the next blizzard.
This article was originally published on