Dad Turned His Daughter's Bedroom Into Her Very Own Disney World
He turned his daughter's entire room into her very own Disney World.
by Raz Robinson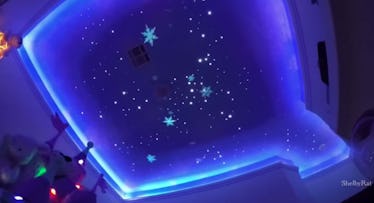 Youtube
For a kid, the Magic Kingdom is pretty much the most wonderful place on earth. You mean all of my favorite characters are there walking around? And I can MEET them? And the concession stands are really expensive? Okay, maybe not that last part. But Disney World persists as the de facto dream location of many kids. Well, one dad, who wanted to treat his Disney-obsessed daughter, wanted to bring the magic to her in the form of a custom Disney bedroom. There's a castle she can crawl in. There's mood lighting. There's a ridiculous light show that recreates of the Magic Kingdom's famed fireworks display.
Lyle Coram – a stagehand who works for two major Las Vegas hotels – told ABC News that the whole process behind designing his 7-year-old daughter's room took place gradually over the course of three months, and included a hodgepodge of Disney-inspired ideas.
"We didn't really plan the room, it just came together," said Coram in an interview with Good Morning America. "Every time we would go to Disneyland, we would get new ideas and add it to the room."
Along with the mood lighting and mock Disney castle in the corner, the most stunning part of Coram's project is the ceiling, which serves as a display for a handful of fantastical imagery. Done with a projector, images on the ceiling can recreate the massive fireworks display that takes place every day at Disney theme parks all over the world. Coram injected another layer of realism by painting the ceiling to look like the night sky.
Because the images can be created with a projector, they're interchangeable: along with the fireworks display, the projector can create the illusion of snow falling, as well as a Star Wars battle.
Coram and his daughter aren't showing any signs of slowing down either: "Our next project in her room is going to be an interactive floor done with projectors in the ceiling shooting down on the floor," he said.
Want to recreate the magic? Coram also created a how-to video that details his entire process, right down to the materials he used.