Cuba to Vaccinate Toddlers Against COVID-19
Emergency authorization will make the country among the first in the world to immunize younger kids.
by Ethan Freedman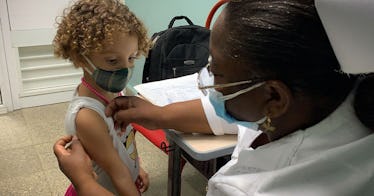 GETTY
Cuba will vaccinate children as young as two years old against COVID-19, a development spurred by high levels of pediatric coronavirus cases on the island.
The Miami Herald reports that kids from ages two to 18 will get the Soberana 2 vaccine. The Soberana 2 vaccine was developed by Cuban scientists, according to CECMED, Cuba's regulatory agency.
With this decision, Cuba joins the ranks of Chile, already vaccinating kids six and older, and both China and the UAE, who have vaccinated three-year-olds, reports The New York Times.
This authorization comes after a Phase 1/2 trial of the Soberana 2 vaccine in children aged 3 to 18 that showed an antibody response against the coronavirus, but before a Phase 3 placebo-control trial, the Herald notes. Phases 1 and 2 of vaccine trials are designed to test for safety and some measures of an immune response, but Phase 3 trials test for measurable efficacy, as well as further safety.
BioCubaFarma, a state-run biomedical group, had previously found that the two doses of Soberana 2, plus a booster dose called Soberana Plus, was 91.2% effective against COVID-19, reports Reuters, though these data have not appeared in a peer-reviewed journal. The research institute also states that another Cuban-developed coronavirus vaccine, Abdala, was 92.28% effective, the publication says, though this result has also lacked peer review. CECMED has already given emergency authorization to both vaccines, and over 64% of Cubans have received at least one shot, with 38% fully vaccinated.
This new authorization comes as the country faces some of its highest recorded daily case levels since the pandemic began. The country is currently averaging around 700 daily cases per million people, a level comparable to the January 2021 peak in the United States. In addition, the Herald reports that most COVID cases in Cuban children have occurred recently as the Delta variant spreads.
Worldwide, many children remain threatened by COVID-19 as vaccine authorization has remained mostly limited to older people and as the more-contagious Delta variant becomes dominant. In the United States, where vaccines are only authorized for those 12 and up, children make up almost 30% of current infections, per Gizmodo. (Kids make up around 22% of the country's population in total.) This risk is only scarier for parents as many millions of kids return to school buildings for the first time since the pandemic began. But this lingering group of unvaccinated Americans may soon shrink, as vaccine authorizations for younger kids and even infants could arrive in the coming months.