Carnival Cruises Have Reopened Bookings for August. People Are Buying Tickets Like Crazy
A supposedly fun thing that many are eager to do again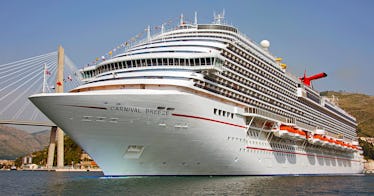 Getty
Cruise ships have a long history as vectors for infectious diseases, including COVID-19. It would logical if the current pandemic to dampened enthusiasm for cruise vacations, but early signs are that the opposite could be happening. Apparently, people really like cruises, risk of serious illness and death be damned.
This theory rests on what happened after Carnival reopened a limited number of routes last week for bookings starting in August. According to a report from TMZ of all places, cruise reservations made through an American Express travel franchise are through the roof, up 200 percent from where they were at this time last year.
Carnival's reopening is very limited, with a fleet of just eight of its 109 ships departing out of Miami and Port Canaveral in Florida and Galveston, Texas. It otherwise extended its pause through August 31 in all other North American and Australian markets.
And just because it's accepting August reservations doesn't mean that those ships are definitely going to sail. The company issued has emphasized the possibility that these new bookings might have to be canceled "contingent on a number of factors.
"Any resumption of cruise operations – whenever that may be – is fully dependent on our continued efforts in cooperation with federal, state, local, and international government officials."
The statement also made it clear that the cruise experience when ships reopen will be different with the addition of "whatever enhanced operational protocols and social gathering guidelines that are in place at the time of the resumption of cruise operations."
In other words, don't expect the buffet to be up and running, the pool to be packed, or the ships to have a dearth of hand sanitizer.
But even if it does relaunch in three months, Carnival won't be out of hot water, so to speak. It's currently under investigation for its handling of the COVID-19 situation by the US House Committee on Transportation and Infrastructure. Additionally, Australian prosecutors launched a criminal investigation into its docking of a ship in Sydney on March 19, drastically increasing the country's population of infected persons.
This article was originally published on