Soccer Star Ronaldo Suggests People Drink Water. Coke Loses Billions.
The Portuguese captain is a force on the field—and, apparently, on the stock market.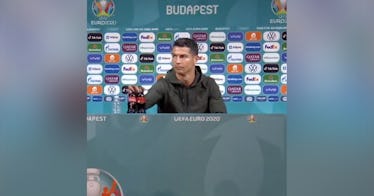 Cristiano Ronaldo is one of the most famous athletes and best soccer players in the world, known for his ability to use his natural speed, canny dribbling, and strength to create offensive opportunities. But his ability to make a sizeable dent in the stock price of one of the most powerful companies in the world might be even more impressive.
Ronaldo is the captain of the Portuguese national team, one of the squads currently competing in the UEFA Euro 2020 Championship in Budapest. On Monday, he sat down for a press conference ahead of his team's opening match against host country Hungary. Behind him was the standard array of sponsor logos. In front of him were a bottle of Coke and a bottle of Coke Zero Sugar, two products from the company that's sponsored UEFA since 1988.
As he was settling in to answer questions from the media, Ronaldo slid the bottles away so that they wouldn't be seen by the cameras focused on him. Then, he held up an unmarked bottle of water to the assembled press and emphatically said "agua," the Portuguese word for water.
It's not a surprise that a top-notch athlete, one of the two greatest soccer players of his generation, would eschew soda for water. But it is surprising that such a high-profile star, a veteran who is familiar with the business of soccer thanks in no small part to his own array of endorsement deals, would set off such a controversy.
The financial damage was sizeable. The Coca-Cola Company's stock dropped by 1.6 percent immediately after the gesture, bringing its market value from $242 billion to $238 billion. And nearly two days later, the stock has yet to rebound from the dramatic dip.
Ronaldo is a known advocate of physical fitness both personally—his fitness regimen is strict and serious—and publically. He's also publically stated that he gets irritated when his 10-year-old son Cristiano Jr. drinks soda, suggesting that his distaste for Coke is also rooted in his fatherhood.
There's no doubt that Coke's stock will eventually rebound, but the incident is illustrative of just how much financial power world-renowned athletes like Ronaldo have. He also may have started a new trend among soccer players.
The day after Ronaldo's presser, French midfielder Paul Pogba sat down for a postgame news conference in the same tournament. Seeing a bottle of Heineken in front of him, Pogba, a practicing Muslim, pulled a Ronaldo and moved the (non-alcoholic) brew out of frame.