Vaccinated By Christmas! White House Reveals Plan for 5-11 Year Olds
The authorization of the Pfizer vaccine for 5-11 year-olds is imminent. Here's how the White House plans to get shots in arms as quickly as possible.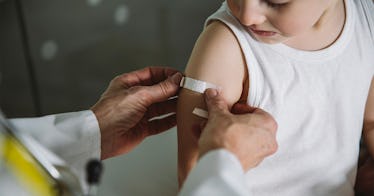 With clinical trial data coming in, independent advisory committees of both the FDA and the CDC are meeting in the coming weeks to discuss authorization of one or more COVID-19 vaccines for use in kids aged 5 to 11. It is very likely that they open the door for these younger kids to get vaccinated soon.
But simply saying kids can receive a COVID vaccine is a lot different than actually getting shots in arms. That's why the Biden administration just unveiled its strategy for pediatric vaccinations.
The administration says that it has enough vaccines to innoculate 28 million children between 5 and 11 years of age. Specifically, it's built up stores of a modified version of the Pfizer-BioNTech vaccine with "a dose and formula specifically for this age group."
The administration's goal is for parents to have access to everything they need to feel confident having their children vaccinated, from medical experts who can answer their questions to convenient, well-stocked vaccination sites. If that happens, the overall vaccination rate in the U.S. should rise, bringing us closer to that threshold of herd immunity and a world in which COVID-19 is an annoying cold.
And as opposed to previous deployments of the vaccine, this one will ship in smaller configurations (ten ten-dose vials) that can last up to ten weeks in standard refrigeration and six months in ultracold temperatures. The configurations will also come with the supplies needed to vaccinate kids, things like smaller needles.
Here's How The Kid Vaccine Distribution Will Happen
The smaller, easy-to-store configurations are important because the Biden administration is moving away from the mass vaccine site strategy that characterized the rollout of the vaccine for adults.
Instead, it will deploy smaller quantities of the vaccine to more sites: "doctors' offices, hospitals, pharmacies, community health centers, and school- and community-based sites."
The hope is that smaller sites that kids and parents are already used to going to will make it easy for parents to access the vaccine and hesitant parents more willing to let their kids get the jab because they trust the pediatrician or pharmacist offering it more than they would someone they've never met.
If fully distributed according to plan, the Pfizer COVID-19 vaccine for younger kids will be available in:
Over 25,000 offices of pediatricians and other primary care providers
Tens of thousands of pharmacies
Over 100 children's hospitals and health systems
Hundreds of school and community-based clinics
Hundreds of community health centers and rural health clinics
Here's the Biden Vaccine Education Plan
Along with leveraging trusted local voices to convince parents to have their kids vaccinated, the Biden administration is charging its Health and Human Services Department with launching a national public education campaign aimed at parents and guardians.
It will rely on people who are already trusted by parents—school officials, faith leaders, organizations among them—for in-person conversations, popular and social media communication, and forums where parents who have questions can get answers. The idea is to use multiple avenues to reach parents, leveraging trusted voices to convince them to vaccinate their kids, or at least start a conversation about vaccinating their kids.