First COVID Tablet Treatment Awaits FDA Authorization
Here's what you need to know.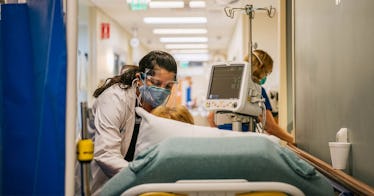 GETTY
American pharmaceutical company Merck just applied for emergency use authorization from the FDA for molnupiravir, a tablet developed in partnership with Ridgeback Biotherapeutics to treat mild-to-moderate cases of COVID-19. If authorized, the drug would be the first oral antiviral medication for the disease, and potentially a game-changer in the ongoing struggle against it.
Currently, COVID patients are often given the antiviral remdesivir and the generic steroid dexamethasone when they are admitted to the hospital. Monoclonal antibody therapy has also been used as a COVID treatment under an emergency use authorization from the FDA.
Molnupiravir is different because it was developed by scientists at Emory University specifically to treat COVID-19. It's a potent ribonucleoside analog that inhibits the replication of the coronavirus that causes COVID-19, and it's been shown to be active against the "most common" variants of the virus, a descriptor that would seem to include the highly contagious delta variant.
Merck is asking for an emergency use authorization from the FDA, the same kind of authorization that all of the COVID-19 vaccines initially had, and that all but the Pfizer-BioNTech vaccine continue to be distributed under. Its evidence of the drug's efficacy and safety comes from clinical testing that suggests that molnupiravir is highly effective when administered to people who have been infected but not progressed to severe COVID-19. The drug was administered to non-hospitalized patients with at least one risk factor that made their condition likely to worsen to the point of necessitating hospitalization.
Halfway through the study, patients who'd received molnupiravir did dramatically better than those who received a placebo according to Merck. They were half as likely to face hospitalization or death (7.3 percent vs. 14.1 percent), and through 29 days none had died while eight who'd been given the placebo did pass away.
The U.S. government already has a contract to supply 1.7 million courses of molnupiravir at a price of $700 each, and the company also has supply and advance purchase agreements with other governments around the world to allocate the rest of the 10 million courses it plans to produce by the end of the year. Additionally, Merck licensed the drug to several generic drugmakers that are expected to produce molnupiravir for distribution in more than 100 low- and middle-income countries.
The requested emergency use authorization for molnupiravir is only for adult use, so children who contract COVID-19 won't be eligible to receive it, at least not yet. It's unclear if, like the vaccine manufacturers, Merck will pursue FDA authorization of any kind for patients under the age of 18.
So while it's direct use for parents with young children might be limited, the presence of an effective drug for patients with COVID-19—along with the vaccines that are now widely available—is good news for those of us eager to usher in a post-pandemic world in which COVID-19 is present but not the kind of total world disruptor it has been for nearly two years now.