Here's Who Will Receive $1,400 Stimulus Check After All
There's good news for most working- and middle-class earners (but not all of them).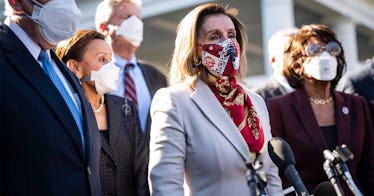 Getty
Do you know if you're eligible to receive the $1,400 stimulus checks? Well, now the new income limits have been released, and who qualifies for the stimulus checks is good news for most middle earners.
The news that the income limits won't be changed for stimulus checks from the Trump administration to the current ones might seem like a no-news story, but it actually isn't. For a few weeks, the Democrats floated giving the checks to fewer people, which had many critics who believed they already reneged on a promise to send out $2,000 payments angry. And while the $2,000 standalone checks are still not happening, and the $1,400 payment is, the good news is that the stimulus payment requirements are not changing.
BANK OF DAD: There's a Right Way to Go Into Debt. Here's How to Plan For It
Republican "moderates" and a handful of centrist Democrats wanted to lower the income at which the benefit would start to phase out from $75,000 to $50,000. The net effect of this change would be giving the money to 29 million fewer people and breaking a promise to voters for no good reason. The Biden administration signaled that it was "open to negotiate" on this kind of change, which would be bad policy and, as Bernie Sanders pointed out on Twitter, bad politics.
Sanders and the progressive wing of the party predictably threw a fit, and their efforts kept the thresholds used for the first two rounds of stimulus payments intact in this latest proposal. But while most people will still receive the same amount of cash they did under Trump, the Democrats did lower the maximum income one can make to receive any money at all.
Under the CARES Act, the law that created the first round of economic relief payments, individuals making up to $99,000 received the full amount of $1,200 less $50 for every $1,000 in income over the $75,000 threshold. The rate stayed the same for the second round of stimulus checks, approved just before the end of 2020. Because that payment was half as much, they hit zero starting for earners making $87,000 or more, halfway between $75,000 and $99,000.
For the third round, payments will decrease by $56 for every $1,000 in income over the $75,000 threshold, which means those making $100,000 or more would not receive a payment. It also means that individual earners making under $75,000 will receive the full benefit and dual-income filers making $150,000 or under will receive the full benefit.
Compared to the GOP proposal, this is a minor change. But it's still less than Biden's initial proposal and smaller than the $2,000 checks that he promised, to critics.
It's also important to note that this proposal is just that, a proposal. The House and Senate still have to approve it, which means there are plenty of opportunities for it to change before it lands on Biden's desk. Still, Biden has come out in favor of the bill in its current form, which means it's likely close to the version that ends up going through budget reconciliation and becoming law.
This article was originally published on