This Calculator Shows How Much You'll Get From the Next Stimulus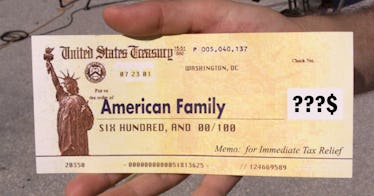 GETTY
Yesterday, the House passed its version of Joe Biden's COVID-19 relief bill. Over in the Senate, Majority Leader Chuck Schumer is confident that the package will pass before March 14, when the current federal extension of unemployment insurance expires, even if it doesn't have the support of a single Republican.
We don't know what final form the legislation will ultimately take—paid sick leave and the long-overdue minimum wage hike it contains are particularly large question marks—the stimulus payments it contains are unlikely to change. (And no, the Democrats aren't going to give you the $2,000 they promised.)
Like the previous two rounds of payments, the amount of the payment people are due to receive will decrease as income climbs past $75,000 for individuals and $150,000 for couples. What's different this time around is the rate at which the payments will decrease, $56 per $1,000 of additional income for individuals instead of $50. And each dependent someone claimed on their taxes makes them eligible for $1,400 more, prorated in the same way.
It's not exactly multivariable calculus to figure out what you would be owed if and when this plan passes, but it can get a bit confusing. To simplify things, the folks at financial publication Forbes created a calculator. As long as you know your adjusted gross income in your most recent tax filing, your filing status (married, single, or head of household), and how many dependents you have (child and adult) you can figure out how much you would receive under the terms of this plan.
The Forbes stimulus check calculator is available here.
This article was originally published on