What's Actually Going On With Booster Shots? Here's The Real Answer
If you're old, sick, or in a high-risk job, you could be eligible for a third dose. Here's what to know (after a week of drama).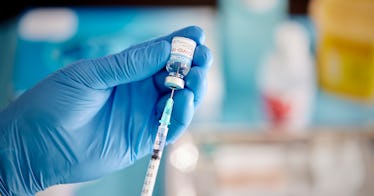 After a tumultuous three days between the White House that was eager to give booster shots out to everyone, the Food and Drug Administration (FDA), and the Centers for Disease Control and Prevention (CDC) that was keen to see more data on whether or not boosters were necessary for the general population, a decision has finally been made as to who will and who will not be eligible to receive a COVID-19 vaccine booster shot. If you've been confused by all of the headlines about it, look no further. Here's everything you need to know about COVID-19 booster shots — including who qualifies.
Who is eligible to receive a booster shot?
Per CNBC, all Americans now eligible to receive a COVID-19 vaccine booster shot fall into at least one of the following categories:
individuals 65 years of age and older
individuals 18 through 64 years of age at high risk of severe COVID-19 because of underlying medical conditions
individuals 18 through 64 years of age whose frequent institutional or occupational exposure to SARS-CoV-2 puts them at high risk of serious complications of COVID-19 including severe COVID-19
At the moment, only those who received a second dose of the Pfizer-BioNTech vaccine more than six months ago are eligible for a booster shot.
It's the only vaccine booster that's received FDA authorization, though the agency is expected to consider approving boosters of the Moderna and Johnson & Johnson vaccines shortly.
Which underlying medical conditions and workplaces qualify people for booster shots?
The CDC currently has an expansive list of conditions that require extra precautions against COVID-19. It's possible that they release an amended, shorter list in the coming days meant specifically to guide decisions on booster shots.
As for the institutions where workers are deemed at a higher risk of exposure, healthcare facilities, schools, daycares, grocery stores, prisons, and homeless shelters are all on the FDA's list.
What about those with weakened immune systems?
Another group of people who are eligible for a third shot is those with particularly weakened immune systems. Those shots aren't technically boosters, however — they are part of the recommended immunization schedule for the three percent of Americans, including organ transplant recipients, who fall into that category.
This schedule applies to both Pfizer and Moderna vaccines, but not Johnson & Johnson.
Who made this decision?
This is where things get complicated.
On Wednesday, the FDA announced that it had authorized boosters for people in the three groups listed above through an amendment to the emergency use authorization for the Pfizer-BioNTech vaccine.
That put the ball in the CDC's court. Because while the FDA is charged with evaluating the safety and efficacy of a booster shot, the CDC considers FDA-approved labeling, disease epidemiology, economic analyses, and implementation issues in setting the public health strategy that actually gets those shots into arms.
In other words, without a robust CDC effort to allocate vaccine supplies for boosters, the impact of the FDA's decision would have been severely limited.
And it looked, for a while, as though that was going to happen. Over at the CDC, the Advisory Committee on Immunization Practices voted on Thursday evening to approve booster shots for older Americans and those at increased medical risk but voted 9-6 against offering booster shots to those working or living in institutions where they are likely to face frequent exposure to the novel coronavirus.
Hours later, in a statement released well past midnight, CDC director Dr. Rochelle Walensky, announced that she was overruling the decision of the committee and aligning the CDC's guidance more closely with the FDA's. In its final guidance, the agency said people 65 and older and those 50-64 years old with underlying medical conditions should receive a booster shot while those 18-49 years old with underlying medical conditions and those at increased risk of exposure because of occupational or institutional setting may receive a booster shot.
What happens next?
The details of how boosters will be administered — including how eligibility will be verified — are not clear. Other unanswered questions include the potential side effects of a third dose, when or if other vaccines will be approved for use as boosters, and whether a third shot could be followed with a fourth, fifth, and so on.
The booster ordeal is a testament to how, a year and a half into the pandemic, there is still so much that everyone, including the smartest people in the room, still don't know about COVID-19.
This article was originally published on