Here's What to Know About AstraZeneca's COVID-19 Vaccine
What you need to know about the AstraZeneca vaccine.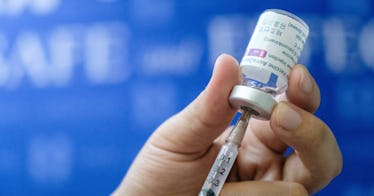 GETTY
All of the 124 million-plus COVID-19 vaccines that have been administered in the United States thus far have been of the Pfizer, Moderna, and Johnson & Johnson varieties.
But Americans might soon have another option, a shot developed at Oxford University and manufactured and sold by the British-Swedish pharmaceutical-biotech company AstraZeneca. But allegations that AstraZeneca may have misrepresented efficacy data and concerns that it could cause blood clots has derailed the rollout.
Here's why the vaccine is still likely headed to the states, how it works, information on the data mishandling, updated data that shows its true efficacy, and what kind of impact it will have on the country's return to something resembling normalcy.
What's the controversy with the vaccine?
Is the vaccine still effective?
What the new data says about the AstraZeneca vaccine's efficacy
AstraZeneca updated the datamore
What makes the AstraZeneca vaccine different from the existing options?
When could the AstraZeneca vaccine be approved? And what will its impact be?
West Virginiathe president's promise of a close-to-normal Fourth of July
This article was originally published on