How New Parents Can Get the Coronavirus Stimulus They're Owed
They're eligible for up to $1,100 per dependent under 18.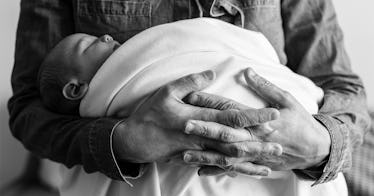 If you had a baby in 2020, you might be owed more stimulus money thank you think. Yes, really.
It sounds like something you'd hear on a dubious late-night infomercial, but the government really might owe you money if you're a new parent. Here's why and how to get it.
Both the CARES Act, passed in March, and the most recent coronavirus relief package provided direct payments to American citizens making under a certain income. Additional funds were sent to people who claimed dependents on their most recent tax returns, $600 per child for the CARES Act and $500 per child for the end-of-year relief bill that has been suggested to be a stopgap spending bill until President-elect Joe Biden takes office in late January.
But if you had a child, adopted one, or will claim a dependent on your taxes next year that you didn't the last time you filed (i.e you're divorced and your spouse claimed your kid last time around), you weren't paid the additional stimulus you were owed. Luckily, there's a simple (if delayed) way to get the money you're owed.
Line 30 of the 2020 edition of IRS form 1040 is dedicated to the Recovery Rebate Credit, the IRS's term for the tax credit that makes up for unpaid stimulus. The CARES Act amount per dependent under 18 was $500, while the latest relief bill allocated $600. So if you didn't receive a stimulus for a young dependent in 2020, you're owed $1,100 total. All you have to do is fill in the appropriate amount on the form when you file your taxes. You'll receive the money back, either as a lower tax liability (i.e. you'll owe less) or a greater tax rebate.
The Recovery Rebate Credit won't apply to those whose income exceeds the limits defined by law, and parents with older kids who've already received the stimulus payment for them obviously won't be eligible for additional funds. But if you don't meet those restrictions, you could have a lot more money in your bank account, so check it out ASAP.