The House Stimulus Package Is Here — Here's When To Expect Your Checks
There's a lot for families to like in this bill.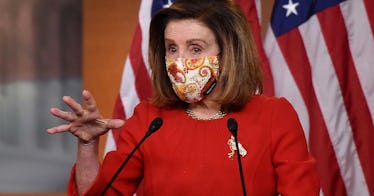 Getty
Nine different committees in the United States House have spent the first part of the 117th Congress working on the first COVID-19 relief package of the Biden presidency. Their work is done, and the bill is ready to be assembled and advanced by the House Budget Committee this week for a vote by the full chamber.
What's in the bill will undoubtedly change by the time it arrives in the Senate, where the votes of all 50 Democratic senators are needed to allow Vice President Harris to cast the tie-breaking vote. But the current proposal is fairly close to the package Biden proposed as a candidate with one dramatic exception: no federal mandate for paid family medical or sick leave.
Still, there's a lot to like about the current proposal, which is likely going to be very close to the package Biden eventually signs into law—ideally before additional federal unemployment benefits expire next month. Here's what's in it — and when to expect to see money in your bank account.
Stimulus Payments
When You'll Get Your Stimulus
Minimum Wage
increase to the federal minimum wagecloser to a living wage
Child Tax Credit and Earned Income Tax Credit
When You'll See That Monthly Child Tax Credit
Unemployment Benefits
Housing and Nutrition Assistance
Education and Childcare
Healthcare and Medical Costs
State aid