Trump Finally Signed Another Coronavirus Relief Bill. Here's What You Need to Know.
More payments, school funding, and additional unemployment benefits are coming.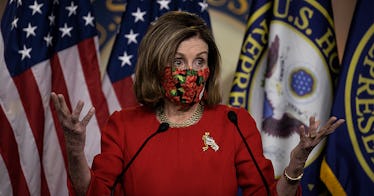 Getty
There's a lot of stuff, some of which is helpful, and some of which is not so much, in the stimulus package the president just signed (after threatening not to). Firstly, it's late — coming 275 days and hundreds of thousands of deaths after the CARES Act was signed into law in late March. It's massive, 5,593 pages, which means it's full of provisions irrelevant to COVID-19 and that not a single member of Congress was able to read it in the two hours between final language and the vote. And the second round of stimulus checks it does provide directly to (some) people is stingy by any metric: less than the CARES Act, way less than support provided by other first-world countries, and nowhere near what people need after months of inaction. On the other hand, public schools are getting more money than it got in the last package, and unemployment insurance is being extended.
But what is in the massive bill that matters to families? Here's what parents need to know.
A 2nd Round of Stimulus Checks
While the stimulus checks are at half of the amount than the first round of checks that came out in March, the structure of the stimulus payments in this legislation is very similar to the CARES Act. Individuals with adjusted gross incomes up to $75,000 will receive the full amount, $600. Those who make between $75,000 and $99,000 receive smaller payments on a sliding scale (the closer you are to $99,000, the smaller your payment). All of these amounts are doubled for couples.
Families receive an additional $600 per child which, it's only fair to mention, is $100 more than the child bonus in the CARES Act. Still, a family of four making under $150,000 received $3,400 under the CARES Act. Under this law, they'll only get $2,200.
Immigrants are excluded from receiving these payments, and additionally, it appears these payments are based on the 2019 tax year — the most official data that the government has on people's income. That being said, that doesn't account for the many millions of people who got furloughed or straight up fired this year due to the economy crashing because of the pandemic, meaning that many people might not get the full amount they deserve.
More Unemployment Insurance
The CARES Act, passed in March, added $600 weekly in federal funds to unemployment benefits paid out by states. This bill, continuing the half-as-good theme, will add $300 per week. The extra money will go out for 11 weeks, ending on March 14. Other unemployment programs for non-traditional workers (gig, freelance, self-employed, independent contractors) and those who use all of their regular state benefits were also extended.
Trump's delay as existing UI expired on 12/26, the day before he finally signed this bill into law, leaving 12 million Americans in limbo. Many will likely have to reapply since their benefits technically lapsed, albeit for a matter of hours.
Funding for Education and Childcare
The law provides $54 billion for public schools, four times what they received in March and one of the rare instances of the new bill being more generous than the old. The final number is about $1,000 per public school student. The bad news is that the lack of state and local funding in the bill—a concession Democrats accepted during negotiations—means state budget cuts could mean districts might not actually get more funding.
An additional $4 billion for governors to distribute to schools (many of which have to be private, for some baffling reason) and $23 billion for higher education also made it into the bill, which falls far short of the $150-250 billion some public school advocates had sought.
The bill also allocates $10 billion for childcare providers, an industry on the brink of collapse, that can be used to help them stay open, reduce family payments, pay staff, and subsidize care for the children of essential workers.
A Boost for Businesses (But No Liability Shield)
The infamous Paycheck Protection Program is also getting more funding, allowing businesses to apply for the second round of loans. $12 billion is carved out for minority-owned businesses, and more nonprofits and media businesses are now eligible. Additionally, the legislation creates a $15 billion grant program to help live venues, theaters, and museums who've lost at least a quarter of their revenue due to the pandemic.
In exchange for getting aid to state and local governments out of the bill, Republicans gave up one of their priorities, a liability shield for businesses who might otherwise face coronavirus lawsuits. Mitch McConnell has signaled that he'd demand such a shield in any future legislation, a signal that the GOP preoccupation with protecting businesses still extends to those whose workers are harmed by their negligence.
Some Help for Renters
The CDC enacted a nationwide eviction moratorium in September. It was set to expire on December 31, but the new bill would extend it through the end of January. It doesn't close the loopholes that have allowed thousands to be evicted since it went into effect, however, nor does it pressure the state and local officials charged with enforcing it to actually do so. Along with the $25 billion in emergency rental assistance in the legislation, the moratorium extension represents a bandage, not a long-term fix.
No COVID Paid Leave
Never the one to be too generous, Senate Majority Leader Mitch McConnell blocked a measure in the stimulus package that would have extended paid sick leave for folks who test positive for COVID-19. The CARES Act required employers to pay up to 14 days if their employees got sick, had to caretake for a sick person or look after their kids. Now, the program won't be expanded, and 87 million American workers will lose access to COVID-related paid sick leave in 10 days. This could mean people go back to work even if they are sick with COVID for fear of losing their jobs or losing out on pay, which could exacerbate the crisis.
A Lot of Non-COVID Related Measures
There are a number of funding measures in the bill that have nothing to do with the pandemic. Namely, $500 million each for Israel and Jordan. Making illegally streaming content a felony. Codification of the reincarnation and succession procedure for the Dalai Lama. Two new Smithsonian museums honoring women and Latinos. Medication standards to prevent doping of racehorses and classification of certain race horses as 3-year property. Some of these bill provisions are really just not like the others.
This article was originally published on