Corona Beer Is Losing Millions To Coronavirus
To be clear, you cannot get Coronavirus from drinking Mexican beer.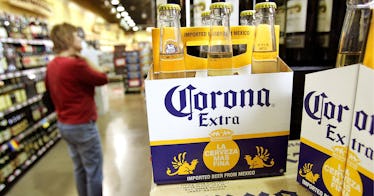 GETTY
Anheuser-Busch In Bev just had its worst quarter in a decade, and it appears that the coronavirus is largely to blame. And no, it doesn't appear that beer drinkers avoiding the company's Corona brand during the outbreak are the culprits. Rather, poor sales in China appear to largely be to blame for the company's poor fortunes.
The outbreak is thought to have started in Wuhan, China, and the country has borne the brunt of the disease. The latest situation report from the World Health Organization shows 78,630 confirmed cases and 2,747 deaths there. In the wake of this carnage, people are staying home. That means tons of businesses — especially less essential ones like bars and restaurants — are closed.
That would mean lots of beer going undrunk at any time of the year — China drinks more Budweiser than even the United States — but losing out on Lunar New Year sales at the end of January was a particularly tough hit for AB In Bev company to take. It's forecasting a 10 percent decline in sales for the first quarter of this year coming on the heels of a 5.5 percent dip in profits in the fourth quarter of 2019.
"Our business is all about going to restaurants, to nightlife, going out with friends, it's really about to go back to normal, we're preparing for the surge when things return to normal," AB In Bev CEO Carlos Brito said in a call with reporters.
Diageo, one of the world's largest spirits companies, had similarly bad news, as its forecasting a $260 million decline in its annual profit thanks to lost sales in China and the Asia Pacific region.
And it's not just the alcohol industry that's being economically decimated by the outbreak. The Dow Jones Industrial Average lost 3.5 percent yesterday, and similar hits were taken by the S&P 500 and Nasdaq Composite indices. Apple is down more than 20 percent from its recent record high, due in part to how much it depends on Chinese manufacturing. Companies as different as Cisco, Chevron, American Express, and Boeing are all experiencing similar steep losses.
It's the kind of bad news that might make you want to have a delicious, ice-cold beer. How about a Corona?
This article was originally published on