Genius Mom Borrowed Her Kid's Buzz Lightyear Helmet to Use as a Face Mask
To the grocery store, and beyond!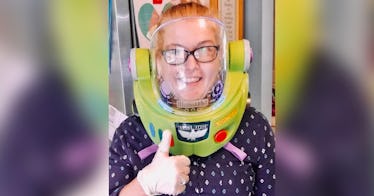 Kelly Hogan Painter
Surgical masks and N-95 respirators are in short supply, and they should all be reserved for the people putting themselves at risk to fight the pandemic. For the rest of us, the CDC recommends wearing cloth face coverings in public places where social distancing is difficult to maintain.
The CDC doesn't mention borrowing your kid's Buzz Lightyear mask to wear on a trip to the grocery store, but that's exactly what one matriarch of a Toy Story-loving family from North Carolina just did.
Kelly Hogan Painter was on a mission. She wasn't going to infinity and beyond, but she did need to make a quick trip to the grocery store to get some chicken nuggets.
"We have a two-year-old son that has autism and very bad sensory issues with food," Painter told HuffPost. "And chicken nuggets is one of the only things that he eats."
Instead of whipping together a mask from a bandana or similar piece of fabric, Painter grabbed a kid-size Buzz Lightyear helmet with a retractable face shield and went on her way.
"It was Buzz or Chewbacca," she said. "And Buzz was more practical."
In a video shared to Facebook, Painter is seen walking through the parking lot talking about her husband's insistence that she wear a mask and bet that she wouldn't do some minor Toy Story cosplay.
"I'm going in," she says at the end of the video after snapping the plastic face shield into place like a badass.
As non-mask experts, we're not sure if Painter's idea is comparable to the recommended cloth method, but as Toy Story fans it's hard not to admire it. After that first grocery store trip, Painter added the mask to her daily routine, even giving the practice a nickname.
"Anytime that I have to be around human beings other than my family, I stay 'Buzzed' up."
This article was originally published on