Tonight's Full Corn Moon Is Not to Be Missed
It's never a bad time to gawk at the moon, but tonight it will look particularly brilliant.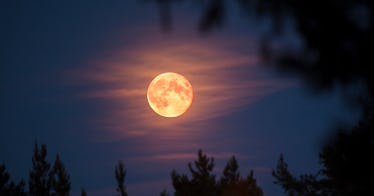 The last full moon of the weirdest summer of our lives will rise in the eastern sky tonight. It's known as the Corn Moon because Algonquin Native American tribes would gather staple crops like beans, wild rice, pumpkins, squash, and—you guessed it—corn at this time of year. According to NASA, it's also known as the Fruit Moon and the Barley Moon in Europe and the Hungry Ghost Moon, our personal favorite moniker, in China.
Somewhat confusingly for a moon named after the harvest, the Corn Moon is not the Harvest Moon this year. That honor goes to the full moon occurring on October 1 because it's closest to the autumnal equinox on September 22.
The Corn Moon will peak at 1:22 a.m. ET tonight in the eastern sky. But if that's a bit past your bedtime or the weather doesn't cooperate, you can also check it out the two following nights.
And if that wasn't enough of a reason to get outside and gawk at the sky, Venus and Mars will also be easy to spot tonight. Venus will appear in the east while Mars will be hanging out in the southwest.
After the Harvest Moon, the next full moon will fall on October 31. That's right: there will be a full moon on Halloween. What else would you expect from 2020?
This article was originally published on