The Conways Have COVID-19, And It's All Playing Out on TikTok
15-year-old Claudia Conway broke the news that her mom and former Trump advisor, Kellyanne Conway, had contracted COVID-19.
by Isabella Bridie DeLeo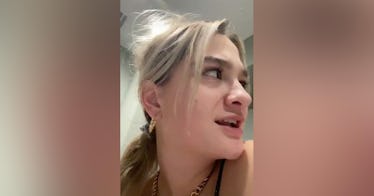 Claudia Conway, the 15-year-old daughter of former Trump advisor Kellyanne Conway, broke the news that her mother had tested positive for COVID-19 on Friday, October 2. Just days after announcing her mom had the virus, on Tuesday, October 6, Claudia announced that she has also tested positive. But what's really going on at the Conways, and how did Kellyanne contract it in the first place?
Claudia is a teenager, but lately she has garnered a lot of attention over her social media posts where she talks about her parents and aspects of her family life that the public doesn't really get to see, including Claudia's posts about her desire to be legally emancipated from her parents. She also, at one point, stated that they were abusive to her. These dual events were rumored to have have contributed to Kellyanne's decision to resign from her position at The White House in August. The Conway family came into the news cycle again when on Friday, Claudia announced that her mom had COVID-19 on TikTok. She revealed the news 30 minutes before her mom confirmed the news herself on Twitter.
In Claudia's viral video, she wears a mask and doesn't say anything, but she captioned it simply, "update my mom has covid," writes Vulture. It was a huge announcement, given the recent wave of infections that occured at the Rose Garden celebration for Amy Coney Barrett. At this point, The New York Times has linked at least 8 infections, including Trump, to the Rose Garden event.
Several members of Trump's inner circle have now tested positive for COVID-19, including Melania Trump, Hope Hicks, Kayleigh McEnany and Kellyanne Conway. Conway attended the event maskless. And it looks like Claudia had her suspicions before her mom officially tested positive, having posted another video with the caption, "My mom coughing all around the house after trump tested positive for covid."
In a video on Sunday, October 4, Claudia updated social media on her family's health situation, saying, "My mom has no symptoms yet i literally feel like HELL." And to make an unfortunate situation worse, a now-deleted series of Tik Toks from Monday, October 5 show Kellyanne getting upset with Claudia for her videos. In one, Kellyanne yells at her daughter "You lied about your f*cking mother about COVID? About COVID?" and later on tells her to correct her previous video, which she eventually does. In a final video, Claudia captions the post with "Little clarification from my previous posts. My mother claims that she did not lie to me. She had three tests done. First negative. Second two positive. We were not in communication. I misinterpreted it."
The situation is all-around tough to watch. Namely, it's important to remember that Claudia, who has skyrocketed into national spotlight because of her TikToks and because of her public statements about her family, is a 15-year-old girl. She's a teenager. That she has to deal with this level of public scrutiny would be tough on any kid, but at least, as of yet, she hadn't become sick from COVID-19. But now, COVID-19 will rip through the Conway family because her mom attended the Rose Garden Event and flouted CDC guidelines, she will have to suffer not just from the stresses of media attention and scrutiny, but also a debilitating physical illness. Let's hope she gets better soon.
This article was originally published on