The Sesame Street Gang Will Help Kids Understand Racism in New CNN Special
Because every parent could use an assist right about now.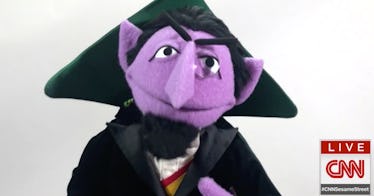 If you've been struggling to explain what's been happening in the world to your kids, Sesame Street is here to help — as it has been for years. Fresh off of a town hall special hat helped kids understand COVID-19, the venerable kids show and CNN will team up again on a special about a topic that's even more difficult to explain: America's complicated racial present and past.
The special will air Saturday, June 6 at 10 a.m. ET on CNN, CNN International, and CNN en Español, and you can watch it live on CNN's digital platforms even if you don't have a login. Van Jones, Erica Hill, and Big Bird will moderate, with the goal of educating kids about racism and recent protests while helping them become more empathetic and understanding.
The network was planning on airing a second COVID-19 town hall last weekend, but it wisely delayed and changed the topic of the special as the pandemic incredibly and unexpectedly lost its place as the biggest news story in the country.
Muppets Elmo and his dad Louie, Abby Cadabby, Gabrielle, and Rosita and humans Roscoe Orman and Sonia Manzano will also pop in from Sesame Street to help out, and there will be other (non-puppet) experts to answer questions submitted by the audience.
Speaking of which, the network is currently collecting questions from parents and kids at the bottom of this page.
Your kids will probably have more questions after it's over than they did before it began, but that's a good thing in this case. The unfortunate truth is that American racism isn't going anywhere, and the more they are able to question it at a young age the better.
"Coming Together: Standing Up to Racism" will air on CNN at 10 a.m. ET on Saturday, June 6. You can watch CNN and Sesame Street's COVID-19 town hall here.