Americans Are Smoking More Because of COVID-19
It makes no sense to take up smoking now. It also makes all the sense in the world.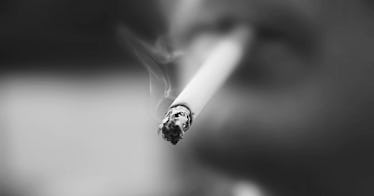 Cigarette sales in the United States were projected to fall four to six percent this year, part of a long-term decline that's accelerated in recent years with the rise of e-cigarettes. Now, the decline is expected to be a much less dramatic two to three percent, and the pandemic is at least partially to blame.
Why the hell are Americans smoking more while a respiratory disease wreaks havoc on their lungs? There are a few different reasons, according to Vox.
Smoking is a self-soothing activity. Like binge drinking and overeating—two other vices on the rise during the pandemic—smoking cigarettes is a reliable way to get a hit of dopamine and epinephrine, neurotransmitters released as part of the brain's reward system. With massive levels of stress due to unemployment, being stuck at home, and a pandemic, it makes sense that more people, especially those who used to smoke, are picking up the packs.
Smoking is a routine in an unpredictable world. Nary a routine has survived the pandemic intact, whether it's commuting to the office every day, grocery shopping sans mask, or going to theme parks on the weekends, hitting the gym, or going to restaurants on Friday nights. Smoking cigarettes—tapping the box, pulling one out, putting it in your mouth, holding a hand up to shield it when you flick the lighter and take that first drag, holding it a certain way, and stubbing it out when you're done—is a predictable routine in an unpredictable world, no matter how unhealthy.
Smoking is a way to spend extra money. The pandemic has, of course, been a disaster for the economy, and millions are experiencing financial uncertainty at the best and outright disaster at worst. But there are also those who've managed to maintain their income even as the things they'd normally spend their money on—concerts, movies, vacations, eating out—became inaccessible.
Coincidentally, a ban on flavored e-cigarettes went into effect on February 6, just before the pandemic hit. It helped accelerate the move to cigarettes as it already forced people to change their routine from fruit-flavored cartridges and pods. Instead of quitting, some people simply switched to cigarettes.
Hopefully, this development is but a blip on the steady decline of American cigarette consumption, but the longer the pandemic and the associated life interruptions it entails endure, the more likely it is they trade their long-term respiratory health for the short-term pleasure of a cigarette.
This article was originally published on