Chuck E. Cheese's Is Desperately Trying to Avoid a COVID-19 Bankruptcy
The kids party venue chain is getting desperate after months of closures.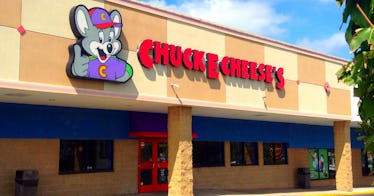 Mike Mozart/Flickr
The COVID-19 pandemic might permanently take out your favorite childhood pizza place.
Chuck E. Cheese's, the children's indoor playground, arcade, pizzeria, party venue, and robotic concert hall with 610 locations across 47 states, may not ever reopen. After being forced to close, the company attempted a pivot to pizza sales with Pasqually's Pizza & Wings, but now, things aren't looking so great. Named for one of the members of the Chuck E. Cheese band, Pasqually's popped up as an option on food delivery apps in a desperate attempt to bring in some money during the shutdown.
That didn't go particularly well, and the company is desperate. It's trying to secure a $200 million loan to stave off bankruptcy, offering millions to keep its executive team intact, and scrambling to refinance its nearly $1 billion in debt.
And while it's tempting to mock the brand that gave us this comically depressing origin story, this is actually a sad story. There's the generations of kids who've had or attended birthday parties there, sure, but the chain also employs over 15,000 people who would permanently lose their jobs.
So while it wasn't any parent's favorite place to spend a Saturday afternoon, Chuck E. Cheese's going under would certainly not be a cause for celebration.
It's also particularly tragic because, after weathering a lot of lean years, the company looked like it had turned a corner. It reported a 2.7 percent same-store sales increase last year, according to the Wall Street Journal, and might have been on the cusp of a renaissance if the coronavirus hadn't come along and wrecked everything.
This article was originally published on