Kurt Russell and Goldie Hawn Are Back as Santa and Mrs. Claus in 'The Christmas Chronicles 2'
The holiday sequel hits Netflix on November 25.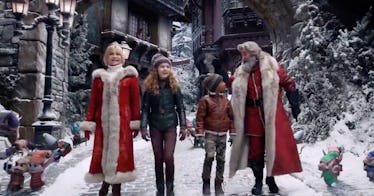 Netflix
You might say that Kurt Russell and Goldie Hawn are reuniting for The Christmas Chronicles 2, but the actors have been together since 1983, so we suspect they never really were apart. It would be more accurate to say that the pair reunited with Chris Columbus, veteran director of Home Alone and the first two Harry Potter movies. Columbus produced the 2018 original and is directing this sequel.
A short clip posted to the Netflix Twitter account shows the couple and two kids walking through Santa's Village. It's what you'd expect a CGI version of the North Pole to look like: a massive tree and ice skating rink that puts Rockefeller Center to shame, a perfect dusting of snow on every surface, picturesque mountainous backdrop, and only slightly creepy elves.
"It's time for Mrs. Claus to get her due," the tweet reads, rather cryptically.
"Mrs. Claus designed everything," Santa says to the boy and girl walking through the village at the beginning of the video.
"Well, if she designed this place, I think it should be called Mrs. Claus's Village," the girl replies.
"Why, I never thought of that," Santa replies.
"Of course he didn't," Mrs. Claus knowingly whispers to the girl.
There is "real dumb sitcom dude with smart wife" energy in this clip, but you're not watching The Christmas Chronicles 2 to see something particularly groundbreaking, are you?
The tweet also revealed the release date for the movie: November 25. That's the day before Thanksgiving, so if the various global crises have made your family even more eager for the holidays than usual, you can kick things off with what should be a cheerful 90 minutes with two of America's more charming actors.