Survey Reveals the Least Liked Christmas Candies
Looks like tradition is keeping a lot of Christmas candies from dying out.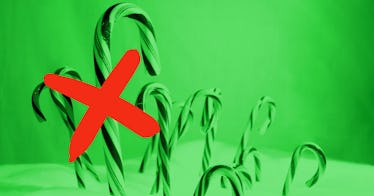 While it faces stiff competition from hot cocoa and cookies, Christmas candy is a beloved part of the holiday. That being said, there are definitely some seasonal candies that appear this time of year more out of a sense of tradition (and perhaps a small but loyal fanbase) than because most people actually like them. Put differently, there's a reason you can only get them once a year.
CandyStore.com surveyed 11,000 of its customers to find the least popular Christmas candies. And while it fell just outside of the top ten, number 11 on the list is still worth mentioning: peppermint candy canes. Apparently, they're better for adorning trees than actually eating. Peppermint bark slides in at number 9 while non-peppermint candy canes are even more loathed, coming in at number eight on the list.
Many of the other candies on the list suffer from a lack of flavor beyond sweetness. At number ten is ribbon candy, another largely decorative treat, beautiful though they may be. Old-fashioned hard candy mix at number 7, Peeps (the snowman variety, obviously) at number 5, reindeer corn at 4, and Christmas nougat candy at number 2 all suffer from the same cloying sweetness.
The problem with Lifesavers storybooks, third on the list, seems to be the packaging. There's some resentment that slapping a bunch of rolls of Lifesavers into a holiday box and calling it a day even qualifies as a Christmas candy.
If you've been keeping count, you'll know there are two candies left on the list. Each is a particularly unfortunate combination of chocolate and fruit. At number 6, the chocolate orange. While fun to smack onto the table to separate into segments, plenty of folks aren't a fan of the interplay between citrus and chocolate.
The most-hated Christmas candy? Cherry cordials, those milk chocolate shells that, when you bite into them, ooze cherry syrup. Even if you're a fan of the flavor combination, it's an extremely unappealing texture and one Christmas tradition most will have no problem leaving behind.
This article was originally published on