Chrissy Teigen Shares Adorable Photos of Miles in a Tux For Dad's Birthday
He's John Legend's mini-me.
by Amanda Tarlton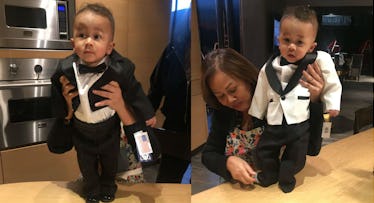 Chrissy Teigen/Twitter
Chrissy Teigen took to Twitter on Saturday to choose an outfit for her son to wear to dad John Legend's 40th birthday party. Sharing two photos of seven-month-old Miles dressed in tiny tuxedos, Teigen asked fans to weigh in on the matter.
"Okay guys. throwing john's 40th birthday party tonight but need your help dressing mini-john. Which one!" tweeted the 32-year-old mom of two, who threw a James Bond-themed affair for her husband (Legend's birthday was on December 28).
One photo featured Miles in a traditional tux with a black jacket and matching pants. The other option was a flashier white coat with black lapels. In both, Teigen's son sported a baby bow tie and sleek black shoes.
She then posted an online poll so her nearly 11 million followers could vote. And according to the results, the white tuxedo was the more popular choice, receiving 67% of the votes (although many commenters pushed for an outfit change during the party).
Fans were also quick to comment on how much Miles looks like his dad. One user advised Teigen to choose "whatever color john isn't wearing. you know, so people can tell them apart."
The pair's resemblance is something that Teigen, who also has two-year-old daughter Luna with Legend, has joked about in the past. And in an October interview with E! News, the Lip Sync Battle host revealed that father and son are alike in more ways than their appearance, too. "Miles is so reserved—he's just John. He's just a cuddly, lovable little ball."
This article was originally published on