Watch Chrissy Teigen and Her Daughter Luna Face-Off in Candy Court
"I want the candy because I want it."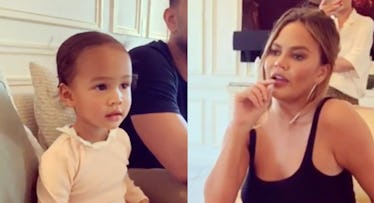 Instagram / chrissyteigen
Chrissy Teigen is solidifying her role as parenting comedienne with a recent Instagram video. On Monday, the cookbook author and former swimsuit model posted a two-part video in which she hilariously negotiates a candy deal with her daughter Luna. Obviously, it is serious business.
Part one begins with Teigen pounding a "gavel" and grills Luna about why she deserves the candy in question. "I want the candy because I want it. And I like it," Luna argues. Honestly, fair enough.
But Teigen isn't folding that easily. "I need a really good reason as to why you need the candy," she refutes. Luna again insists that "I like it" is sufficient, and Teigen accepts under the condition that she "won't scream" when it's time to sleep, something that all parents will relate to.
In the second video, candy court opens and the family officially begins negotiations. Teigen offers one piece of candy and Luna counters with three, which her father, John Legend, agrees is a solid rebuttal. However, Teigen isn't ready to give up that easy, so she sticks with her offer of one piece. However, Luna is equally stubborn and once again insists she should get three pieces. Eventually, they are able to settle on Luna getting two pieces of candy, and the family celebrates the fair and just ruling with a round of applause.
Chrissy Teigen and John Legend's one-year-old old son Miles isn't seen in the videos, but surely it'll be his turn to learn negotiation skills sometime soon.
This article was originally published on