Chrissy Teigen Is Paying For Teachers' School Supplies
She's buying teachers' Amazon Wish Lists
by Isabella Bridie DeLeo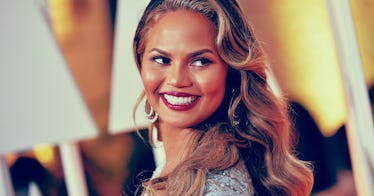 Getty
On August 23rd, Chrissy Teigen took to Twitter to post an enviable school from home set up for her kids. The photos sort of resemble an (extremely well-funded private) elementary school classroom stocked with cubbies for her two kids, 4-year-old Luna and 2-year-old Miles, that might just make the kiddos feel more like they're back at school. But also there's a book wall that looks like a tree? Musical instruments? Outfits for playtime? And it appears so clean and organized and calm? Many teachers probably won't be able to relate to how well-stocked the classrooms setup is.
So, soon after the Cravings: Hungry for More cookbook author shared the photos, Teigen announced that she would be helping teachers buy the school supplies they need. She wrote, "If you are a teacher in need of supplies for the upcoming school year, please drop your amazon wishlist here, I will do as many as I can!" She later added, "Ok I'm looking at your lists now! I'll do as many items as I can – I wish there were a button to add everything at once! It's gonna take me a long while so bear with me!" And Teigen delivered. She ended up paying for 50 Amazon Wish Lists and plans to pay for more this week.
Many schools are struggling especially now and even in pre-pandemic times, teachers at under-funded schools often have to pay for supplies out-of-pocket. It's definitely heartwarming to see that Teigen, who recently announced that she's pregnant with her third child, is making an effort to support struggling educators.
This article was originally published on