Chrissy Teigen's Friends Donated Blood to Honor Her and Son She Lost
They donated seven pints of blood, the same amount Teigen received during her hospital stay.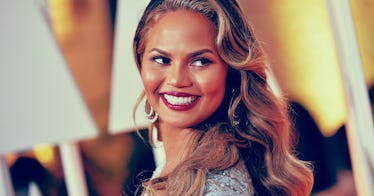 Getty
Complications during her third pregnancy landed Chrissy Teigen in the hospital last month, and unfortunately, she and husband John Legend lost the baby, a son they had already decided to name Jack. Teigen was radically open about the loss and their grief, posting bereavement photos, and an essay about the experience.
As a show of support for Teigen and the doctors who cared for her, seven of Teigen's friends donated blood at a Halloween blood drive—in effect replacing the seven pints she received during her stay. Led by Kimmie Kyees, a celebrity manicurist, the septet chronicled their donations in photos and threw together a slideshow that Teigen shared on Instagram along with a heartfelt note.
"Phewwwww the tears. I'm overwhelmed by our circle of friends. The love I feel for each and every person in our circle actually makes me ache," Teigen gushed.
To Kyees, she wrote "I've known you for so many years now. You know every story, you hear every life gripe, you're amazing at what you do but the way you treat my kids and family is cherished always. To do something like this for baby jack is just…I dunno. Beautiful."
You can find a blood bank in your area using this tool from the AABB.
This article was originally published on