Mattel Honors 17 Inspirational Women With New Barbie Dolls
Chloe Kim is one of 17 honorees in Barbie's new Shero program.
by Raz Robinson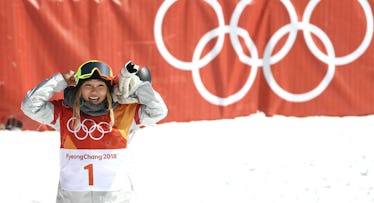 GETTY
In honor of International Women's Day, which falls on March 8, Mattel is honoring 17 new women with dolls within their "Shero" and "Inspirational Women" brands. The line of dolls were inspired after Mattel conducted a survey of 8,000 mothers around the globe and found that 86 percent were concerned about not having enough female role models for their daughters.
Barbie's Shero program looks to inspire a new generation of girls by exposing them to contemporary female role models from all walks of life. Each doll comes with personalized accessories that fit their inspiration. The new inductees to the collection include Wonder Woman director Patty Jenkins, A Wrinkle in Time director Ava DuVernay, conservationist — and daughter of Steve Irwin — Bindi Irwin, boxer Nicola Adams, and Olympic gold medalist Chloe Kim.
Chloe Kim was stoked to say the least.
Included in the "Shero" collection already are ballerina Misty Copeland, Olympic fencer — and the first Muslim-American Olympic athlete to compete in a hijab — Ibtihaj Muhammad, model Ashley Graham, and gymnast Gabby Douglas.
The "Inspiring Women" collection are made celebrate notable historic women. The new inductees include Amelia Earhart, Frida Kahlo, and Katherine Johnson, the mathematician from Hidden Figures fame.
"As a brand that inspires the limitless potential in girls, Barbie will be honoring its largest line up of role models timed to International Women's Day, because we know that you can't be what you can't see," Lisa McKnight, SVP and GM of Barbie in an interview with Glamour. "Girls have always been able to play out different roles and careers with Barbie, and we are thrilled to shine a light on real-life role models to remind them that they can be anything."
There's no word as to when the entire line will be released. But you can see them all here.