Working Parents Are In Hell. Does the Treasury Report Have Answers?
A new report shows how inaffordable, inaccessible childcare hurts all Americans.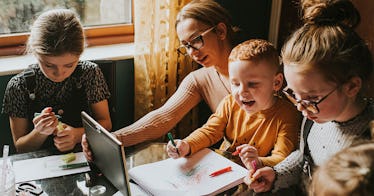 The Treasury Department just issued a report detailing what every non-wealthy parent in the United States already knows: the state of American childcare is awful.
It's too expensive, often difficult to secure, dependent on underpaying women of color, and puts a severe constraint on family finances and the economy at large.
"It's past time that we treat childcare as what it is – an element whose contribution to economic growth is as essential as infrastructure or energy," Treasury Secretary Janet Yellen said. "This is why the Biden Administration has prioritized the Build Back Better proposals, many of which are now moving through Congress. Enacting them is the single most important thing we can do to build a stronger economy over the next several decades."
According to the report, the average family with at least one kid under 5 spends 13 percent of their family income on childcare. That's a lot of money. Less than 20 percent of kids are eligible for the Child Care and Development Fund, one of the biggest federal programs for child care programs in the United States, actually receive the funding.
A major issue is that childcare providers have razor-thin profit margins. That keeps pay to providers, who are disproportionately women and nonwhite, low. Many child care workers have to survive on government benefits programs like food stamps to survive — for a job that is not simple. These constraints lead to high turnover, understaffed centers, and more pressure on the social safety net when they must rely on public services to supplement low pay.
Young parents don't have a lot of work experience and are often making mortgage and/or student loan payments monthly. The sudden huge expense of childcare adds further strain to the family finances that Treasury data shows take until nearly a decade after the birth of a family's first child to recover. That's a lot of years in which families aren't able to put as much money into the economy as they would otherwise, an effect that is multiplied by parents who forgo a paycheck that would just go to the daycare center and decide to stay at home with the kid.
Beyond the financial benefits, the report points out that "multiple researchers have found that children who attend early childhood education and care programs stay in school longer, commit fewer crimes, and stay healthier over their lifetimes." Having more adults who attended quality early childhood programs would ease the collective burden in many areas of society.
The Biden administration's solution to these problems is to spend money to expand the supply of affordable, quality childcare through these measures:
The Child Care for American Families Program, which would fully cover the cost of child care for the poorest families and ensure those earning up to 1.5 times their state's median income pay no more than 7 percent of their income for child care
The Child and Dependent Tax Credit, which is currently due to expire at the end of the year, and provides $3,600 per dependent under five ($3,000 per dependent over five) and allows parents to deduct some childcare expenses from their taxes
A new tax credit for companies to build childcare facilities at places of work, half of the first $1 million in construction costs each
Universal preschool, which essentially ensures all 3- and 4-year-olds receive childcare for free
Universal paid leave, which allows parents to more easily fill in the gaps of the childcare system (i.e. many centers won't look after kids under six weeks old)
The ultimate fate of these proposals is up in the air thanks to so-called moderate Democrats whose votes are needed to get anything passed. But the report makes clear that the situation is dire, and that anything but dramatic action will harm kids, parents, and the country as a whole.