Child Actress from 'Avengers: Endgame' Pleads With Fans to Stop Bullying Her
Yes, people are angry at a 7-year-old.
by Catherine Santino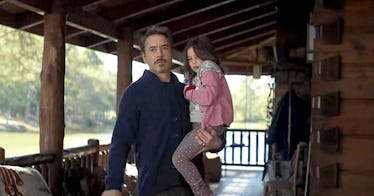 Marvel
For a kid actor, getting to star in a huge movie franchise must be one of the most exhilarating and special experiences. However, because people feel the need to be terrible, it can also incredibly stressful. Pint-sized Avengers: Endgame star Lexi Rabe (aka Tony Stark's daughter Morgan) is pleading with fans who've been incessantly bullying her. Yes, people are angry at a 7-year-old.
The actress, who uttered the instantly iconic line "love you 3000" to her movie dad, is being criticised for not taking the time to speak with fans at a Los Angeles mall. Fans were quick to attack Rabe for being unprofessional (again, she's 7), specifically her mother Jessica for the way she handled the situation. In a Instagram post from Rabe's parent-run account, the family explains that, hello, they're human beings and sometimes not able to stop and chat with fans.
"She's a normal human being and she's a child," the caption reads. "Sometimes we're rushing from place to place stressed like everyone else to get to set on time or work or whatever and we seem a little grumpy. I'm sorry if you see us this way but that's life!…We are not perfect!"
In the video, Rabe explains that sometimes she acts "silly" or "messes up" because, you know…she's 7. She then pleads with fans, saying, "Please don't bully my family. Or me."
It's one thing for fans to think actors owe them their time, it's another to be this critical of a child who, let's be reminded, is still learning how to function in the world. Sadly, this isn't the first time child actors have been attacked in this way. In a 2012, actor Jake Lloyd (aka young Darth Vader in Star Wars: Episode 1) said that incessant bullying at school forced him into early retirement.
This article was originally published on