Check Your Bank Account—Fourth Child Tax Credit Arrives Today
Unless Congress acts, only two more payments are on the way.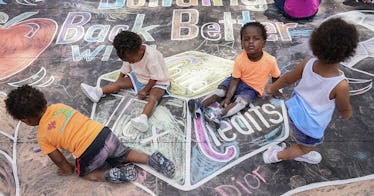 GETTY
Millions of American parents woke up this morning to slightly fuller bank accounts. That's because the fourth advance Child Tax Credit payment—a signature achievement of President Biden's American Rescue Plan—went out last night.
The payments of up to $300 for kids five and under and $250 for kids six to 17 represent half of the total value of the tax credit. The other half will be paid out when parents file their 2021 income tax returns next year, lessening the amount they owe and/or coming back to them as part of their refund.
If you meet the income requirements to be eligible for the credit and you've set up direct deposit with the IRS then you already have your money. If you haven't, then your check is in the mail today. You can sign up for direct deposit using the Child Tax Credit Update Portal at irs.gov by November 1 so that you can receive your November and December payments sooner. Beyond that, the situation is murky.
As things stand now, those two payments will be the final ones. Biden and company could only get a year of the new and improved child tax credit passed, believing at the time that the public would be so behind it that it would be politically unwise to oppose Democrats' attempts at an extension.
That was before the two-track strategy stalled, before Kyrsten Sinema brought Biden's agenda to the brink by refusing to negotiate with members of her own party and flying to Arizona and Europe to raise money from the rich people whose interests she serves.
So the fate of the child tax credit beyond the end of this year is decidedly unclear, which makes this rare moment, when the government does something simple and helpful to working parents, something that brought millions of kids out of poverty, could very well be fleeting.
This article was originally published on