Disneyland Mural Honors Chadwick Boseman, Role Model
The mural of "King Chad" captures effect Boseman's work had on kids.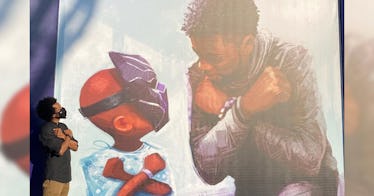 NikkolasSmith/Instagram
Disneyland's Downtown Disney shopping district has a brand-new mural honoring Chadwick Boseman, the actor who played T'Challa in Black Panther and sadly passed away almost a month ago at the age of 43.
Artist Nikkolas Smith created the mural and posted a video of its unveiling and on Instagram. It shows Boseman and a young boy in a T'Challa mask, each doing the Wakanda Forever salute. Boseman is on one knee to get closer to eye level with the boy.
"Seeing Chadwick's heart for people in person, and later discovering his courageous battle with cancer, I was inspired to create this tribute to honor his life and legacy," reads Smith's statement next to the artwork in Downtown Disney. He elaborated on Instagram, where he also posted a photo of himself holding a baby, presumably his son, in front of the piece.
"To millions of kids, T'Challa was a legend larger than life, and there was no one more worthy to fill those shoes than Chadwick Boseman," Smith wrote of his "King Chad tribute."
"I'm so thankful to be able to honor Chadwick's life and purpose in this way."
The project was Smith's final as an Imagineer at Disney, a job he had for 11 years. Now, he's an independent concept artist, children's book author, and film illustrator whose work seeks to "spark important conversations in today's world and inspire meaningful change."
Given his career at Disney, including working on the Avengers Campus, and the significance of Black Panther as a superhero of color, it's appropriate that Smith was chosen to create this piece.
The mural will be on display through the end of the year.
This article was originally published on