Celebrities and Friends React to the Death of MythBusters Host Grant Imahara
"Somedays I wish I had a time machine," wrote 'MythBusters' co-host Kari Byron
by Isabella Bridie DeLeo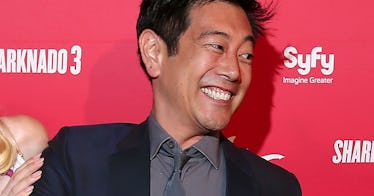 Getty
Grant Imahara, best known as a roboticist and co-host of MythBusters, has died. He passed away on Monday night after suffering from a brain aneurysm, according to The Hollywood Reporter. He was 49.
Adam Savage, a MythBusters co-host, paid tribute to him on Twitter, writing, "I'm at a loss. No words. I've been part of two big families with Grant Imahara over the last 22 years. Grant was a truly brilliant engineer, artist, and performer, but also just such a generous, easygoing, and gentle PERSON. Working with Grant was so much fun. I'll miss my friend."
The official Mythbusters Twitter account wrote, "We are heartbroken to hear this sad news about Grant. He was an important part of our Discovery family and a really wonderful man. Our thoughts and prayers go out to his family."
Sadly, Imahara is gone, but his good work lives on. In March, he posted an Instagram video of a fully animatronic baby Yoda that he had made. In the caption, he wrote, "This is a not-for-profit project. We'll be touring children's hospitals and our first visit is scheduled for April!"
After studying electrical engineering at the University of Southern California, Imahara worked for nine years at Lucasfilm-affiliated labs, where he made animatronics for movies such as The Matrix series, the Jurassic Park franchise, Van Helsing, and the Lucas' Star Wars prequels, plus controlling R2-D2's movements in the films.
Imahara joined the cast of MythBusters in its third season, helping inspire a love of science for countless kids and families over the years. He left the show in 2014 but joined his fellow Build Team members Kari Byron and Tory Belleci in hosting White Rabbit Project on Netflix.
In memoriam, Byron shared a picture of the three co-hosts and wrote, "Somedays I wish I had a time machine."
Bonnie Burton wrote, who worked with Imahara at Lucasfilm, wrote, "When I met @grantimahara on my 1st day of work at Lucasfilm in 2002, I knew we'd be friends for life. We've had plenty of laughs, drinks, glitter fights & late night talks. It's hard to celebrate a friendship of 18 years in a tweet. I will miss you Grant, more than I can say."
Tony Belleci wrote, "I just cannot believe it. I don't even know what to say. My heart is broken. Goodbye, buddy."