Still Your Waiting on Stimulus Check? Here's What to Do.
The IRS just announced a big change to the rules.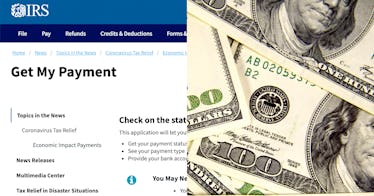 Most eligible Americans have received the stimulus owed them under the terms of the CARES Act, but millions more have not. Here's what you can do if you fall into the latter category, with information that reflects new changes to the rules announced yesterday.
This information should only apply to people who don't typically file taxes, as they IRS might not have the necessary information to calculate and remit a payment. There is a tool on irs.gov that allows those people to enter that information that was originally supposed to close on October 15. Now, non-filers who have not received their payment have until November 21 to use that tool.
"We took this step to provide more time for those who have not yet received a payment to register to get their money, including those in low-income and underserved communities," said IRS Commissioner Chuck Rettig. "The IRS is deeply involved in processing and programming that overlaps filing seasons. Any further extension beyond November would adversely impact our work on the 2020 and 2021 filing seasons. The Non-Filers portal has been available since the spring and has been used successfully by many millions of Americans."
Rettig's words suggest that another extension for non-filers is unlikely. And it's important to note that for filers who haven't received their payments, including those who requested an extension to file their 2019 tax return, the deadline remains October 15.
This article was originally published on