People Are Tossing Their Stimulus Payments On Accident
The prepaid debit cards come in plain envelopes that look like junk mail.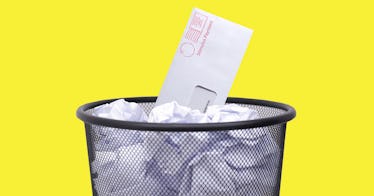 Four million people who are still owed a stimulus payment under the CARES Act won't receive the paper checks they were originally promised. Instead, they'll get a prepaid Visa debit card in the coming weeks. Setting aside the should-be scandal of why it takes so long to pay people, there's another issue with these payments: it's really easy to accidentally throw the card away.
The envelopes the cards are in are easily confused for junk mail. Instead of "IRS" or "Department of the Treasury" or even "President Donald J. Trump" the envelopes say "Money Network Cardholder Services," a phrase so generic it sounds made up. There's also no kind of government insignia, nothing to suggest that the envelope isn't part of the 41 pounds of junk mail the average American receives every year.
Multiple reports reveal that some folks have made or almost made this costly mistake.
The IRS decided to use privately managed debit cards because budget cuts and obsolete technology — part of a concerted, yearslong GOP effort to undermine the agency — mean that it's not well-equipped to print and distribute as many checks as it needs to.
The cards are known as EIP Cards and managed by Money Network Financial, LLC., which is part of Fiserv, a global financial technology conglomerate. In addition to what it's being paid directly by the agency, the company is also collecting fees from cardholders, effectively and unconscionably lowering their statement. If you're able to spot and not throw away your card, you can still look forward to paying these fees for domestic transactions (international fees are equal or greater).
$2 for an out-of-network ATM withdrawal (in addition to a fee that can be charged by the ATM operator) beyond the first withdrawal
$5 for an over-the-counter cash withdrawal from a bank teller beyond the first withdrawal
$.25 for an ATM balance inquiry in or out-of-network
$7.50 to reissue a lost or stolen card beyond the first replacement
$17 to ship a replacement card 4-7 business days after the order is placed as opposed to the standard 7-10 business days
The bottom line if you're still waiting on your payment is to be careful. Be careful not to throw away the card that, because the IRS can't handle its workload, only has the generic name of a private company on its envelope. And be careful that you don't end up effectively lowering your stimulus payment by paying the expensive fees that the company is allowed to charge you.
This article was originally published on