Cardi B Won't Let Her Toddler Listen to WAP, And The Internet Is Mad
Called out as a hypocrite, the rapper did not hold back.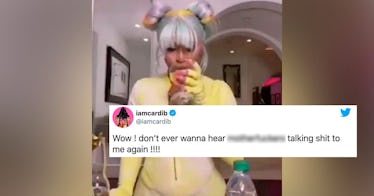 The parent-shamers are coming for Cardi B — all because she doesn't let her toddler listen to age-inappropriate music, as any parent would.
Cardi B was recording a video of herself singing along to "W.A.P.," the raunchy hit she released with Megan Thee Stallion last year. In the background, her two-year old daughter Kulture walks into the room. Spotting her, Cardi B immediately turns off the song, says "No, no, no, no, no, no," and takes a sip of white wine. It's like that time your dad hastily changed the channel as a sex scene was starting.
In other words, it's what most parents would have done, which is why the criticism from a Twitter user was so strange.
"So ya daughter cant listen to it but everybody else's daughter can ? @iamcardib AW OKAY ! Exactly what I been saying you have an agenda to push with that trash ass label your with. DISGUSTING," she wrote.
Let's examine her argument. It could be that because Cardi B is one of the creators of "W.A.P." that she should let her kids listen to it, akin to saying Scorsese has to show Casino to his kids. It could also be that releasing "W.A.P." even with the requisite explicit warning labels presented a threat, which honestly seems like it's more the parents' fault. It's a bad taker, and Cardi B responded in kind.
It is pretty much common sense, which is why it's frustrating to argue about. So frustrating, in fact, that the next day Cardi still seemed annoyed.
At the end of the day, parents can do whatever they want in their professional lives and keep that life separate from their kids. Cardi B wrote a song for adults, as she says, and her literal toddler is clearly not an adult. Maybe when she's older, Cardi can show her some of the more raunchy music she's written — when it's age-appropriate. But for now, Baby Shark is where it's at for Kulture, and that's totally valid.
This article was originally published on