Dak Prescott Reboots Retro NFL Chunky Campbell's Soup Commercial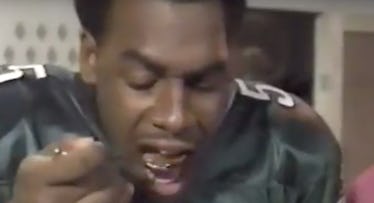 Credit: NFL/Campbell's Soup
On Thursday, the Green Bay Packers and Chicago Bears will play the first game of the season at Soldier Field in Chicago. NFL football, the occasionally inspiring uniquely American spectacle is back, baby! And this time, there's some nostalgia making a play for your grocery budget.
Campbell's Chunky Soup has been a big part of the NFL empire for a long time. Campbell's commericals have featured a rotating cast of NFL stars for decades, and the brand became an official NFL sponsor in 1997, the same year it launched its classic "Mama's Boy" campaign that brought the moms of those stars into the mix.
Their latest star is Dallas Cowboys quarterback Dak Prescott, who signed a three-year deal with the brand and owner of the "chunky" trademark last year. He's back in a new commercial that's an unofficial kickoff to the NFL marketing season that reaches its zenith with Super Bowl commercials.
Prescott's season-opening ad is a bit different because it features not his mom, who sadly passed away from colon cancer in 2013, but his brothers, Tad and Jace. Its wholesome sense of humor remains the same.
The first star of a Campbell's Chunky Soup "Mama's Boy" ad was Reggie White, the Hall of Fame defensive lineman for the Packers. His mom went undercover as a cheerleader to, you guessed it, deliver him soup.
Before Prescott, the last player to sign a multi-year contract with the company was Donovan McNabb, who appeared in multiple ads over the course of the deal, including this memorable commercial within a commercial.
McNabb's successor was Michael Strahan, a TV host who, it can be difficult to remember, was actually a pretty damn good football player for a long time. As a member of the Giants, it made sense for him to shoot his ad on a downtown 6 train.
Packers star Clay Matthews's mom had a secret mom cave behind the locker room, a play on the man cave trope.
And while most of these commercials take place on the sideline, Terrell Davis's mom braved the TV gridiron herself.
There are plenty more of these on YouTube if you want to take a longer trip down memory lane before tonight's kickoff.