California May Start Publicly Calling Out Parents Behind on Child Support
by Amanda Tarlton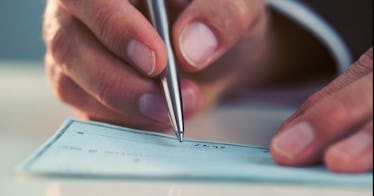 California is trying to make child support evasion a thing of the past by publicly shaming those who do it. The state just proposed a new law that includes a website listing parents who owe more than $5,000 in child support payments.
Under Assembly Bill 1498, the Department of Child Support Services would be required to post the delinquent parents on a public webpage with each person's picture, full name, and the amount they owe.
Parents would receive a 60-day notice before being placed on the list. And to be removed, they would have to make 90 straight days of payments.
"What we're trying to do is use a very effective tool called peer pressure that actually allows people to shape their behavior in a positive way," the bill's author, Republican representative Tom Lackey, told ABC7. "Because where we need to focus is not so much on the offender, but we have to be reminded that there's a very, very serious victim here and that's the children."
And while some people have expressed concern that the website could embarrass the delinquent parent's child, Lackey disagrees.
"I think that peer pressure works," Lackey told CBS, adding that the custodial parent would get to choose whether or not they wanted the other parent's picture to be posted. "Unless they agree that this is a reasonable remedy we don't do it."
If the bill, nicknamed "The Child Support Evader Law," is passed, the website would go live in 2021. And California would join four other states—Arizona, Indiana, Kansas, and Texas—that already have laws aimed at delinquent parents.
The California website would likely look like the one that the Arizona Department of Economic Security currently runs, for instance. The page explains that the child support evaders "are featured to enlist the help of the general public in locating these parents so DCSS can continue its efforts to collect child support on behalf of Arizona families."