Busy Philipps Perfectly Supports Her Child Coming Out in Podcast
Phillips revealed her kid uses they/them pronouns and is gay on a podcast.
by Isabella Bridie DeLeo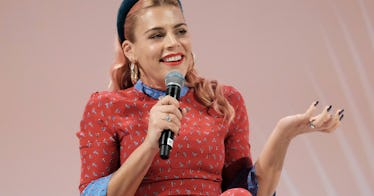 Getty
In a recent episode of Busy Philipps' podcast, Busy Philipps Is Doing Her Best, the host and actor shared important details about her 12-year-old child Birdie's gender identity and sexuality: Busy announced that Birdie is gay and uses they/them pronouns.
Busy explained that Birdie revealed their identity to their parents at 10-years-old, to protect their privacy and to make sure that Birdie could publicly come out in their own time and in their own terms, Busy hasn't been using they/them pronouns for Birdie on the show until now. But now, she has Birdie's blessing.
Busy said, "For those of you who are my friends listening at home, this is the first you're hearing that Birdie is gay and out," adding, "Birdie told us at 10 years old and we immediately… I mean, obviously, I knew that Birdie knew," per Parents. She continued, "I said, 'you know Bird, I've been doing a bad job with the pronouns,'… Because Birdie said that they would like their pronouns to be they/them and I haven't been doing it because I have this public persona, and I want Birdie to be in control of their own narrative, and not have to answer to anybody outside of our friends and family if they don't want to."
Birdie told Busy recently that they consented to their mom talking about their identity on the podcast. Paraphrasing Birdie, Busy said, "Bird was like, 'I don't give a f***. You can talk about that I'm gay and out. You can talk about my pronouns. That would be cool with me. That's great.'"
Busy recalled an important conversation she had with Birdie about identity and being one's self. One day, Birdie had been lying down on their bedroom floor and listening to Harry Styles' "Fine Line" over and over and, according to Busy, Birdie told her, "'It's just, I feel like I'm alive but I'm not really living, you know? And I just want the living part to start.'"
Busy replied with some crucial words of wisdom, telling Birdie: "You get to choose what will make you feel fulfilled and happy. It doesn't have to be any of these constructs that we've all been fed our entire lives. This is a different world that you get to f*****g build." It's great to see such supportive and empowering advice. Kudos to Birdie for embracing their identity and to Busy for being wonderfully supportive (as she and every parent should be!).