Build a Better Breakfast With This Lego-Inspired Waffle Maker
It's an idea so fun and so simple, it's a wonder no one thought of it before.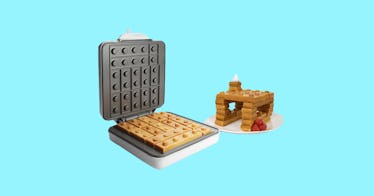 Whether you think of them as edible Legos or buildable waffles, the breakfast treats you can make with the Building Brick Waffle Maker are drool-worthy for more than one reason. And honestly, it's an idea so clever that seems so obvious; after all, you stack waffles just like you stack bricks.
This waffle iron looks pretty much like any other square waffle iron on the outside, but opening it up reveals a Lego-like interlocking pattern that produces 10 1 x 2 bricks, two 1 x 1 bricks, and two 1 x 4 bricks. Simply pour in your preferred batter, close the iron, and in a few minutes you'll be ready to play with your breakfast.
The company's founders showcased a few different examples, including a ranch house, log cabin, and pickup truck, but there are endless possibilities. Your kids might also opt to build a tower as high as they can, because what food doesn't taste better in tower form?
Alas, you can't get your hands on one of these breakfast dynamos until they ship in August (as scheduled), but you can pre-order one by supporting the Kickstarter campaign its creators set up. The machine on its own is $50, and you can add a second at a $5 discount if you want to get one as a gift or are simply a truly ambitious breakfast builder. Other packages come with "construction plates" that have built-in nubs designed to make your creations even more stable.
It's not like you need to make waffles more fun to make your kids eat them, but if you're in the market for a waffle maker, it's hard to think of a reason why you shouldn't get the one that lets them create and then devour a structure of their own invention?
This article was originally published on