Bruce Springsteen Played Stripped Down Songs for a COVID-19 Benefit Concert
He was joined by wife Patti Scialfa, but the rest of the E Street Band stayed in quarantine.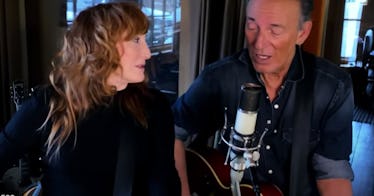 As part of his role as New Jersey's unofficial ambassador to the world, Bruce Springsteen, along with fellow Garden State rock star Jon Bon Jovi, put together "Jersey 4 Jersey," a concert to benefit the New Jersey Pandemic Relief Fund.
A ton of Jersey musicians — SZA, Halsey, and Tony Bennett among them — performed. Jon Stewart, Danny DeVito, Kelly Ripa, Chris Rock, and Saquon Barkley were among the non-musicians who dropped in to lend their support.
Springsteen himself opened the show in what might have been his first opening gig since the '70s. He played two songs, an acoustic but still brash version of "Land of Hope and Dreams" and a delicate cover of Tom Waits's "Jersey Girl," which Springsteen has been performing live since the '80s.
Springsteen performed with wife and collaborator Patti Scialfa; the rest of the band stayed safely quarantined on E Street.
But the emotional highlight of the night was the Fountains of Wayne reunion. The band, which took its name from a since-shuttered lawn ornaments store in Wayne, New Jersey that Tony Soprano once visited, lost bassist Adam Schlesinger to COVID-19 earlier this month. Belleville, New Jersey native Sharon Van Etten stepped in to play bass on "Hackensack," a song about another Jersey town, along with the rest of the band, everyone performing from the safety of their own homes.
New Jersey gets a lot of well-deserved grief from the rest of the country, but when it comes to musical talent last night's show is proof that the Garden State has plenty to be proud of.