Breastfeeding Mom Offers Perfect Response When Asked to Cover Up
Technically, she did comply.
by Raz Robinson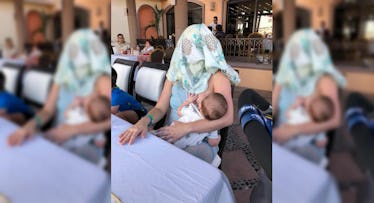 Carol Lockwood Facebook
You've got to give Melanie Dudley credit, she's funny. When asked to "cover up" while nursing her baby in a restaurant recently, she had a pretty hilarious response: she covered her head with the blanket and left her breast exposed while the baby continued to nurse. Touché.
CHECK OUT: This Double Electric Hospital-Grade Breast Pump Is 25% Off for Prime Day Only
Dudley was on vacation with her family, she also has two four-year-old twin boys, when a man (it's unclear whether he was a manager) approached her and requested she cover up ⏤ despite it being 90-degrees outside. According to a News Channel 9 report, the impulse to drape her head in the blanket was pretty split second. "I was on vacation in Cabo San Lucas with my entire family and a man asked me to cover myself," said Dudley. "I'm usually discreet, but we were seated in the back of the restaurant."
Since the picture and accompanying story were posted to Facebook last week, it's been shared more than 200,000 times as tens of thousands of people have chimed in on the situation. While there were definitely a few highly insecure 'cover it up!' detractors spewing hate, most of the comments support Dudley's actions.
CHECK OUT: This Insane Prime Day Deal on Playtex Baby Ventaire Anti Colic Baby Bottles
"It's so wrong in this day and age where it's perfectly acceptable for girls/women to walk around half naked wearing next to nothing," wrote one commenter, "Yet woman are judged for doing the most natural thing on Earth. Look away if it makes you uncomfortable."