Why Moms Are Flashing Their Babies In Viral Breastfeeding TikTok Challenge
by Amanda Tarlton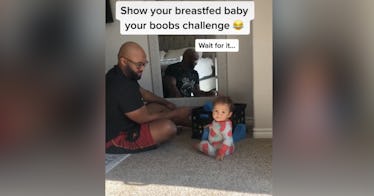 First there were the dance-offs, then there was the whipped coffee craze, now there's the #dropemout challenge. The latest TikTok trend to go viral has breastfeeding moms everywhere flashing their breasts for their babies—and their reactions are priceless.
Also dubbed the "show your breastfed baby your boobs" challenge, the videos are set to the tune of the country song 'Drop 'Em Out' by Wheeler Walker, Jr., which features lyrics like "Drop 'em out, let me see them ti–ies…gonna take a long look at those tig ol' bitties. " In the viral videos (some of which have received over 100,000 views!), moms record their baby's reactions when they spontaneously expose their breasts to them.
Needless to say, since babies equate breasts with food, said reactions range from subtle interest to pure joy. One baby, who was playing with her dad when her mom flashed her, immediately crawls over with a big grin on her face (followed jokingly by Dad!). "He does this every time," the mom wrote about her husband.
Another baby claps his hands excitedly as he toddles over to feed. "What can you say, the man knows what he wants in life," one person commented.
Keeping with the trend of dads reacting just as their little ones, one user captioned her video, "She had the same reaction my husband did," as her baby dove in for her breasts.
And perhaps the funniest of the videos to be posted so far is this one, which features the 10 month-old baby eagerly licking her lips in anticipation of her mama's milk. Someone was clearly hungry…
This article was originally published on