Moms Stage 'Nurse-In' at Public Pool After Woman Was Kicked Out for Breastfeeding
After a nursing mother was wrongfully ejected from a public pool, a breastfeeding support group organized a highly appropriate protest.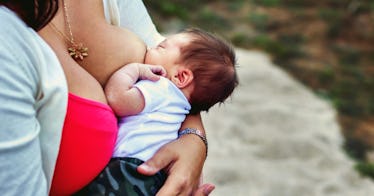 A group of Texas moms stuck up for one of their own after she was ejected from a public pool for breastfeeding. Instead of a boycott or a picket line they went with a protest more appropriate for the situation: a nurse-in.
The mom in question, Misty Daugereaux, told local ABC affiliate KTRK that she was approached by a lifeguard at the Nesseler Park Family Aquatic Center in Texas City, near Galveston, while feeding her 10-month-old son on Sunday.
"She said you need to cover up or leave. She gave me the ultimatum," Daugereaux recalled.
"And I said, 'Well, you show me in your policy where I need to cover up and I'll leave.' And, she was telling me that it was not right, that I needed to cover up. It was their policy. And I said, 'Well, you can go call whoever you need to call, but I'm not leaving for breastfeeding my son.'"
Eventually, the police were called and Daugereaux, along with her nephew and two sons, left the pool, defeated.
Daugereaux joins an unfortunately high number of women who have been shamed for nursing their kids in airplanes, parks, restaurants, elementary schools, emergency rooms, dentist's offices, and other public pools.
The next day, roughly six women arrived at the pool and breastfed their kids in an act of defiance. Daugereaux said that most were from a Galveston County breastfeeding support group and that their actions made her feel powerful and loved.
Texas law states that "A mother is entitled to breast-feed her baby in any location in which the mother is authorized to be." Daugereaux was clearly in the right, and Texas City issued a statement apologizing to her and promising to train the employee in question.
This article was originally published on