Brandless Drops Quality Diapers That Are Insanely Cheap
Their everyday price is way better than most diaper sales.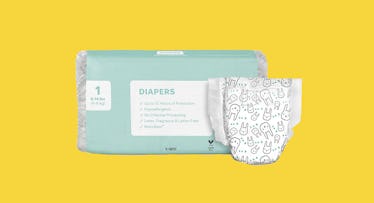 Brandless has been making waves since it launched a year and a half ago. The e-commerce startup offers a wide assortment of consumer goods for just three bucks. Their latest offering is a real game-changer for parents. The company is bringing its markup-free pricing structure to the world of diapers, offering 50-packs for just $9.
By comparison, Amazon's diaper brand is $32.92 for a 40-pack when you subscribe, over four and a half times more per diaper. And speaking of subscriptions, Brandless offers automated deliveries of diapers you're definitely going to need every 2-8 weeks. There's currently a promotion: the code FREEDIAPERS gets you two weeks free on orders of at least $48.
At such a low price, you might think the company is cutting corners, but there's a lot to like about these diapers. They're latex-, fragrance-, and lotion-free, hypoallergenic and made without chlorine processing. The absorbent core is made of sustainably sourced wood pulp and the waists and sides stretch to fit snugly.
Brandless diapers are available in six different sizes, each pegged to the weight of the baby who'll be wearing them. They're part of a broader line of baby products now being sold on the site.
Shampoo and body wash, lotion, balm, diaper rash cream, and plant-based wipes can be had for just $3 each. There's also six flavors of baby food and two of teething wafers, all organic and available for, you guessed it, three bucks.
Those are all solid deals, but the diapers (which, we should mention, also come in fun designs) are the real bargain here. And you can take the money you save and add it to the kid's college fund.